Those who helped:
Here's a plug for her - click the sign...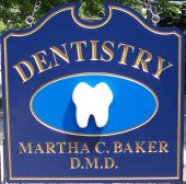 I owe a debt of thanks to the following people, who helped make my 'Vette look and run better and more safely: Frank O. and staff at F. & J. Transmissions, Danny Hebberd at Moriches Power Equipment, Mr. Herb Guthrie, Mr. Jay Guthrie, Bill Jensen, Croce's Auto Body, Just Tires and Wheels, Rich Puleo, "MAD" Mike DiLavore, and the folks at Long Island Corvette Supply.
Thanks to my wife for always being a good sport!